His wife of 60 years, Caryl, pointed to the casket in front of her, complete with the Red V logo, and said her late love would have been proud of how he was dressed one last time.
"John loved his clothes … he had 320 ties, about 100 pocket handkerchiefs that matched, 26 suits, 40 pairs of shoes that he religiously polished, and about 100 shirts," Caryl said.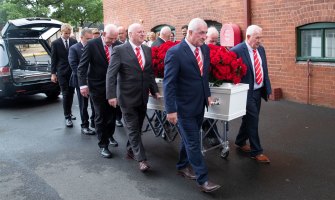 Raper was the eldest of nine boys. The only people he was scared of were Caryl's parents and the dentist, including one he kicked in the chest before he escaped out the window as a boy.
His eldest son, Stuart, whose 16th birthday present from his father was a dinner date with former Test fast bowler Jeff Thomson, spoke about his father reconnecting with God after a melanoma scare in 1993.
Sadly, dementia was not as forgiving when it turned up uninvited six years ago. Caryl knew the awful disease had made 'Chook' forgot her face but not her voice.
"The last year when I used to go up and see him [at the Garrawarra Centre], I'd get to his room and sing out, 'Give me a smile, 'Chooky", and his face would light up with a cheeky little smile," Caryl said.
"Sometimes he couldn't see me, but he knew my voice. I'll never forget that beautiful smile."
After a couple of seasons with Newtown, Raper signed his first deal with St George worth "50 pounds". He went on to win eight premierships for the mighty Saints.
Loading
There were also the 24 games for NSW, and 39 Tests for Australia. When the rain started again in front of the members' stand at the SCG, Howard took to the stage and said the conditions evoked memories of Raper running riot in the slush during a 1963 Ashes Test against England in Swinton.
Aaron, Raper's youngest son, who played with Cronulla and Parramatta, said his father was upset with the game only once.
"He hated everything Super League represented," Aaron said. "Greed, loyalties being broken – it ruined the game, he said. So many friendships were tested, and words were spoken he thought would never be said."
The current Dragons squad formed a guard of honour as Raper exited the SCG one last time. Thanks for the memories, Chook.