A law expert says the Minister for Immigration has the power to cancel Novak Djokovic's visa again without applying natural justice, but they expected the case to go back to court if that occurred.
University of Sydney Law School's Professor Mary Crock, who specialises in immigration law, said the immigration minister has broad powers under section 133 of the Migration Act to cancel the tennis champion's visa again.
The minister could decide a reason as broad as that it's in the public interest.
"It's a state of mind power," Professor Crock said.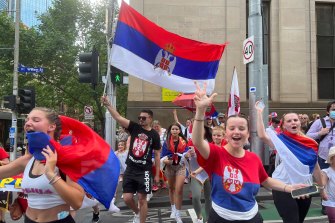 But the professor expected the case would go right back to court if that occurred to consider all the substantive issues that were before the court today already.
"The issue that would go back into court is the question of whether there were any grounds on which his visa could be cancelled," Professor Crock said.
"It's very, very hard to argue to win those cases."
Professor Crock said people have "very few rights" when they first enter a country and are in immigration clearance.
"Your right to know what's going on is fairly limited. You're usually not allowed to communicate with the outside world," she said.
"That's not unique to Australia either, immigration control is a rather opaque process in many countries."
As The Age and Sydney Morning Herald's foreign affairs and national security correspondent Anthony Galloway reported earlier, the effect of cancelling the visa again would mean Djokovic would not be allowed into Australia for another three years.
Professor Crock said that situation would be "beyond embarrassing" for Australia.
In today's developments, a separate minister – the minister for home affairs – conceded on all the procedural grounds and agreed to the orders that the cancellation would be overturned.
This meant the court did not make a decision.
"The significance of that is that it doesn't give the court any scope to make a ruling on what happened and most particularly doesn't allow to the court to make any comments about the substantive issues," Professor Crock said.
Notably, this would be confirming what exactly the Australian Technical Advisory Group on Immigration's (ATAGI) advice is for people who claim, like Djokovic, they have a medical exemption from being vaccinated because they were infected with COVID-19.
Professor Crock said the ATAGI rules were "profoundly unclear".
"As the judge said 'What else did he have to do, what could he have done?'"
The former head of the ATAGI and still serving member, Professor Allen Cheng, told state political reporter Paul Sakkal a short time ago that exemption for prior infection never applied to overseas travellers.
He did not know whether that advice was ever published and made available to the public.