Oh pricey.
An over-enthusiastic prime minister has simply unintentionally shoulder-charged eight-year-old Luca Fauvette throughout a soccer sport whereas campaigning within the seat of Braddon in Tasmania.
"Where's Luca, where's Luca? He's probably gone off to hospital!" Scott Morrison joked after the accident, to a giant roar.
Luca is alleged to be high quality and was up and working round straight after the PM's vigorous deal with, in response to our travelling reporter James Massola.
The second was captured by our information photographer James Brickwood, who has been travelling with Morrison all through your complete marketing campaign.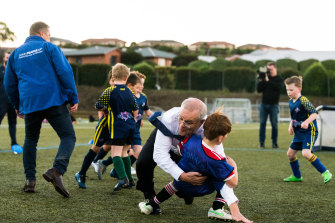 "No one is safe from the bulldozer," Labor's marketing campaign spokesman, Jason Clare, has quipped.
But Massola stories that the incident didn't dent the enthusiastic welcome given to the PM, who pledged $3.5 million for a brand new grandstand, upgrades to the pitch and lighting on the Devonport Strikers soccer membership.
Morrison himself leaned into the joke, telling the youngsters's mother and father that he regarded ahead to returning when the grandstand wanted bulldozing.
"I think that when that grandstand comes down, I hear it might need a bit of a bulldozer to knock it down, so I might be able to help with that," he mentioned.
Luca's coach, Keegan Smith, mentioned it was no large deal.
"He's fine, he jumped up and had a big smile … it's not that big a deal," he mentioned.
"I said to him, 'Luca are you alright?', and he had a smile on his face. He just had to shoot off; it wasn't bad. We just finished a bit later than we usually do so he probably had to go with mum and dad."
Read extra: Campaign goes off-script as Morrison unintentionally tackles little Luca