IND vs NZ LIVE Score: New Zealand chase 185- Rohit Sharma slammed his 26th T20I fifty as India made the most of the conditions and set 185 target for New Zealand at the Eden Gardens on Sunday. Follow India vs New Zealand LIVE updates on InsideSport.IN
Opting to bat, Rohit Sharma and Ishan Kishan provided India with a great platform posting 69 for the first wicket. But once Ishan Kishan departed, India lost two wickets in quick succession. Suryakumar Yadav and Rishabh Pant failed with scores of 0 and 4. While Rohit brought up his half-century and departed after a fantastic one-handed catch by Ish Sodhi, Shreyas Iyer and Venkatesh Iyer kept the scorecard ticking.
In the end, Deepak Chahar's 8-ball 21 helped India post 184/7. Mitchell Santner was the most successful bowler who kept NZ in the hunt, taking three wickets for 26 runs.
IND vs NZ Live Score: WICKET! Daryl Mitchell departs, Axar Patel gives India early breakthrough, NZ 21/1; Follow LIVE Updates
IND vs NZ LIVE Score: New Zealand Innings: 21/1, need 185 to win
Martin Guptill
Not out
16
7
2
1
228.57
Daryl Mitchell
Not out
5
5
1
0
100.00
Extra
0 (b 0, w 0, nb 0, lb 0)
Total
21/0 (2)
Yet To Bat
MS Chapman, Glenn Phillips, TL Seifert, JD Neesham, Mitchell Santner, AF Milne, IS Sodhi, TA Boult, LH Ferguson

Over 2: Deepak Chahar comes into attack
DROPPED! Good delivery and Guptill miscued it. Chahar goes for the catch and drops it.
SIX! No-look? No, half-look six. Guptill taking on Chahar.
FOUR! Guptill vs Chahar continues. Guptill hammers Chahar for a 4.
Over 1: Bhuvneshwar Kumar opens bowling for India
FOUR! Knuckle ball from Bhuvneshwar and Guptill guides it for a 4.
IND vs NZ LIVE Score: India Innings: 184/7
Over 20: Adam Milne to bowl the last over
SIX! This time, Chahar goes for a 6. Flat on the long on and it goes for a 95m six. India cross 180-run mark.
FOUR! Another boundary. It was a result of sheer confidence. In the gap and goes for one bounce four.
FOUR! Deepak Chahar on the charge in the last over, takes on Milne for a 4.

Over 19: Lockie Fergusen back for his final over
WICKET! Bizarre, Harshal Patel dismissed in bizarre fashion. After hitting a six, he accidentally touches the wicket and he is dismissed.
SIX! Harshal Patel hammers Milne for a big 6. He can bat well. Just a reminder, he opens for Haryana in domestic white-ball cricket.
Over 17: Adam Milne back in attack
FOUR! Harshal picked it up well and sends it for a one-bounce four.
Both Iyers gone and two Patels are on crease — Harshal Patel and Axar Patel
WICKET! Back in attack and a wicket. Shreyas tries to take on Milne to accelerate scoring and gives an easy catch.
Over 16: Trent Boult back in attack
WICKET! Trent Boult gets his wicket. Venkatesh Iyer tries to take on but fails against Boult's knuckle ball and departs.
Over 15: Santner comes in for his last over
Santner's excellent spell of 3/27 comes to an end.
Over 14: Ish Sodhi comes for his last over
SIX! Venkatesh Iyer won't spare such loose balls. Hammers him for an 85m six.
FOUR! Finally! Shreyas Iyer gets the better of Sodhi this time and hammers for a 4.
Over 12: Ish Sodhi continues
WICKET! What a catch, a one-handed blinder and Rohit Sharma has to depart.
Over 10: Ish Sodhi continues
Shreyas Iyer comes in after Rishabh Pant's wicket.
Over 9: Mitchell Santner continues
WICKET! That was unnecessary. Rishabh Pant tries to attack Santner and loses balance, the shot is sky high and Neesham takes it comfortably. India lose third wicket.
Over 7: Mitchell Santner comes in
WICKET! Two wickets in the over. Suryakumar tries to drive one and gives a catch to Guptill.
WICKET! Santner strikes, Ishan Kishan edges and departs after a fine start.
Over 6: Lockie Fergusen continues
Over 5: Adam Milne comes in 
Another good over for India. 10 runs off it.
Over 4: Lockie Fergusen replaces Milne
SIX! Rohit mishits but it goes the distance for a 6. Rohit is having a ball here.
Over 3: Trent Boult continues
FOUR! Ishan Kishan takes on his New Zealand teammate and hammers him for a 4.
SIX! Shorter delivery and Rohit hammered it for a big 6.
Over 2: Adam Milne comes in
FOUR! Similar shot and similar result. Ishan Kishan this time was in better control.
FOUR! Ishan couldn't time it well and it took an edge but it rushes to the boundary.
Over 1: Trent Boult with the new ball
FOUR! This time, Rohit didn't miss the opportunity. He found some room and slashed it for a 4.
FOUR! Outside edge and Sharma survives and it goes for a 4.
Boult finds some inswing and beats Rohit.
India have made two changes. Ashwin and KL Rahul sit out, Ishan Kishan and Yuzvendra Chahal return to Playing XI. For New Zealand, captain for the first two T20Is, Tim Southee is rested while Lockie Ferguson returns from injury.
India Playing XI: India: Rohit Sharma(c), Ishan Kishan(w), Venkatesh Iyer, Suryakumar Yadav, Rishabh Pant, Shreyas Iyer, Axar Patel, Bhuvneshwar Kumar, Deepak Chahar, Harshal Patel, Yuzvendra Chahal
New Zealand Playing XI: Martin Guptill, Daryl Mitchell, Mark Chapman, Glenn Phillips, Tim Seifert(w), James Neesham, Mitchell Santner(c), Adam Milne, Lockie Ferguson, Ish Sodhi, Trent Boult
With the series T20 series already in the pocket, Ishan Kishan and Yuzvendra Chahal got the opportunity while KL Rahul was rested out to stay fresh for the Test series, beginning in four days in Kanpur.
🎥 That moment when Mr. Sourav Ganguly, President, BCCI rang the famous Eden Gardens bell to commence the proceedings. 👏 👏#TeamIndia #INDvNZ @Paytm | @SGanguly99 pic.twitter.com/uCIiADbpcx

— BCCI (@BCCI) November 21, 2021
@18:35: Yuzvendra Chahal is the milestone man, plays his 50th T20I.
Milestone Alert – @yuzi_chahal is all set to play his 50th T20I 👏👏

Go well, Yuzi 🙌#INDvNZ pic.twitter.com/I87oMBL1AQ

— BCCI (@BCCI) November 21, 2021
@18:30: Rohit Sharma wins toss and surprise, he opts to bat first.
Rohit Sharma after toss: We are going to bat first. Pitch looks a little sticky and we want to challenge ourselves as a batting unit. We gotta try various things and this is one of them. We want to put runs on the board and give the new set of bowlers a target to defend. KL and Ashwin are rested. Ishan and Chahal come in. We are very clear as to what we want to do that's why Ishan has to wait for his opportunity, Chahal as well, he has been a champion bowler for us.
@18:20: Tim Southee and Yuzvendra Chahal share a light moment.
🤗🤗#INDvNZ @paytm pic.twitter.com/kqo0Y1XBur

— BCCI (@BCCI) November 21, 2021
@18:15: No new caps handed over today. That means Avesh Khan will have to wait for his chance.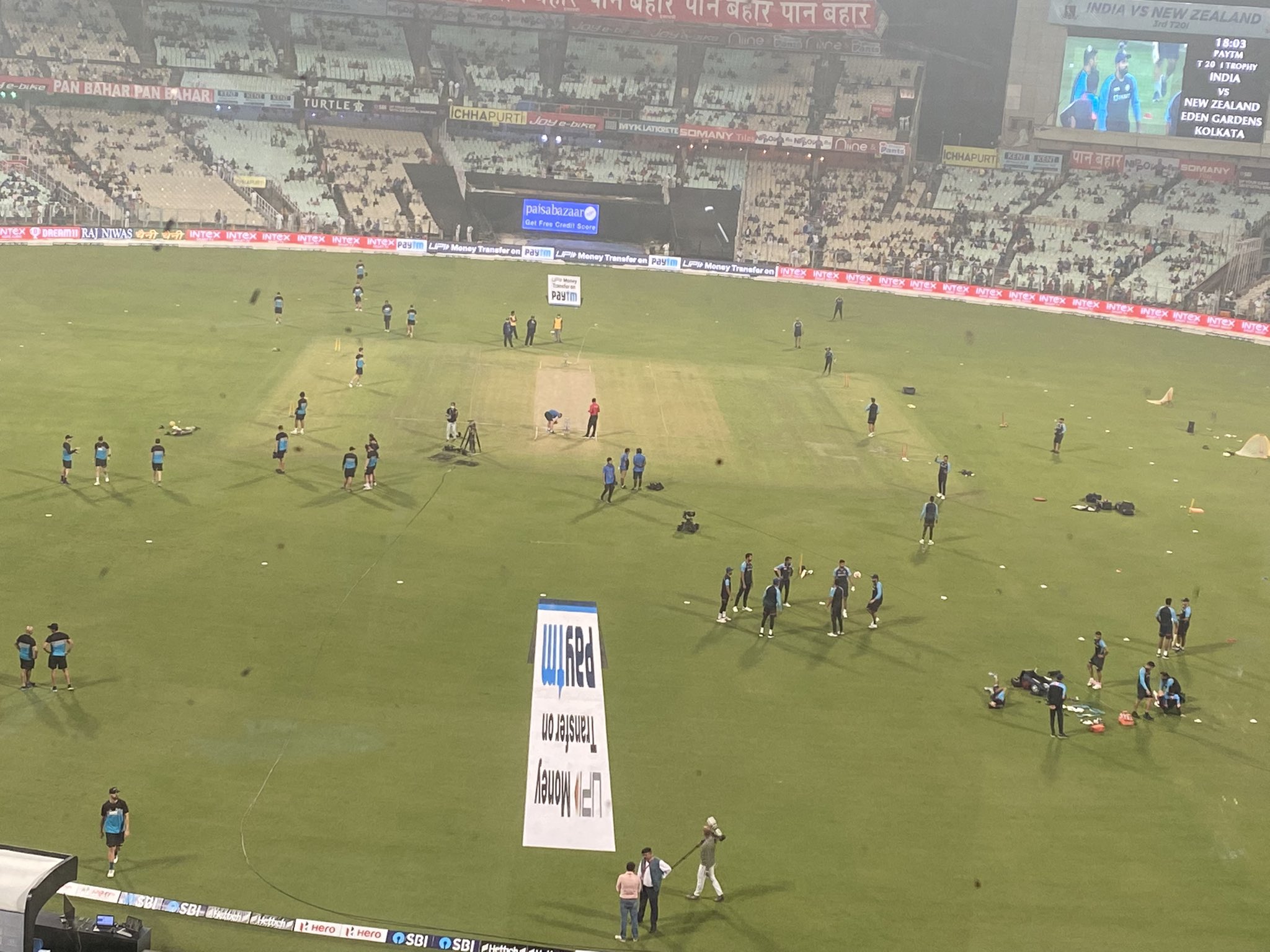 @6PM: Rohit Sharma's love affair with Eden Gardens is well-known. Can he dominate at Eden once again?
Rohit Sharma at Eden Gardens: 
Slammed 177 on Test debut in 2013 at Eden
Slammed the highest score in ODIs 264 against Sri Lanka in 2014.
Scored his first IPL century against KKR in 2012 at Eden
Scored unbeaten 98 against KKR in 2015 at Eden.
Hello & good evening from the Eden Gardens, Kolkata for the third 3rd #INDvNZ T20I. 👋#TeamIndia @Paytm pic.twitter.com/Nwy0mZZhr4

— BCCI (@BCCI) November 21, 2021
Also Read: IND vs NZ LIVE, T20: Series in bag, Rohit Sharma & Rahul Dravid ready to experiment in 3rd T20 against New Zealand – Follow Live Updates
IND vs NZ Live Score: Mitchell Santner leads NZ, Rohit wins toss, opts to bat first at Eden; Follow LIVE Updates
India Playing XI vs NZ 3rd T20:
Ishan Kishan
Rohit Sharma (c)
Suryakumar Yadav
Shreyas Iyer
Rishabh Pant (WK)
Venkatesh Iyer
Bhuvneshwar Kumar,
Axar Patel
Harshal Patel
Deepak Chahar
Yuzvendra Chahal
IND vs NZ Live Score: Rohit Sharma smashes 26th fifty as India set 185 target for New Zealand; Follow LIVE Updates
Yuzvendra Chahal will be playing his 50th T20I game.
He is India's second-highest wicket-taker in the shortest format with 63 wickets.
He needs 3 more wickets to equal Jasprit Bumrah and reinstates his place at the top.
Chahal was IPL's joint-highest wicket-getter among spinners with Rashid Khan.
He has played 10 T20Is against New Zealand and taken 7 wickets.
Meanwhile, Deepak Chahar went for 40+ on both appearances with lone wickets in both matches.
Siraj remains doubtful owing to the left-hand injury that he sustained in the T20I opener.
The likes of Ruturaj Gaikwad, Avesh Khan and Ishan Kishan are yet to get a place in the India Playing XI. After Harshal Patel's debut, Avesh will be vying an opportunity to play in India colours.
IND vs NZ 3rd T20: India eyes clean sweep, Sourav Ganguly says 'be careful of dew at Eden Gardens'
IND vs NZ Live Score: Rohit Sharma smashes 26th fifty as India set 185 target for New Zealand; Follow LIVE Updates
Rohit Sharma didn't rule out changes for the upcoming fixture either.
"It is early to think about changes in the next game. Whatever suits team India, we'll do that. We need to make sure we look after the guys who are playing now. They haven't played a lot either. For the guys who haven't played, their time will come, there are a lot of T20s," he said post-match.
IND vs NZ Live Score: Rohit Sharma smashes 26th fifty as India set 185 target for New Zealand; Follow LIVE Updates
For more sports news and India vs New Zealand LIVE updates, follow us at insidesport.in