Dr Duncan-Smith said restrictions had led to a reduction in the predicted peak for South Australia and population-adjusted figures comparing that state's modelling with WA showed the west could be in for a big peak in March or April if new rules were not put in place.
"If we don't increase restrictions now we will be facing somewhere between 50,000 and 60,000 new Omicron cases per day at our peak," he said.
"If we introduce restrictions early and adequately, that will reduce to approximately 10,000 new cases per day at that peak.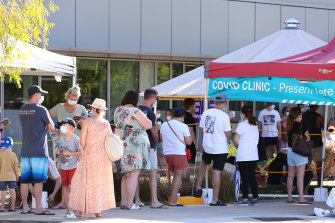 "I'm immediately calling for similar restrictions to South Australia, which is density restrictions at hospitality centres, dancing only at weddings, home capacity of approximately 10 people, masks to be worn at all in indoor venues and also work from home wherever possible."
Dr Duncan-Smith said the vaccine passport rules that were set to be introduced from January 31, where West Australians had to be vaccinated to enter most businesses, should be brought forward as soon as possible.
"WA's medical system needs to be protected, it doesn't have the capacity to deal with COVID without reducing business as usual," he said.
"We're coming off the lowest number of beds per head of population and the lowest number of ICU beds per head of population of any state or territory in Australia.
"These measures are necessary now to reduce the peak so that we don't get a tidal wave of severe disease flooding our medical system."
Australian Nursing Federation WA secretary Mark Olson said people in the state needed to know what the government was planning now.
"Particularly nurses in the private sector … we know what's happening in the other states, we know that our colleagues working in the private sector in the other states have had elective surgery cancelled," he said.
"That's the bread and butter of the private sector. We need to know what we're going to do with that valuable workforce.
"I'm not advocating a lockdown. But I would look towards South Australia. One of the states, along with Tasmania, that has managed to flatten the rise in hospitalisations.
"And they've done that by effectively introducing a 'Clayton's lockdown' … when you look at the steps they've taken, whether it be banning visitors from hospitals and aged care settings, except for compassionate reasons.
"Now is the time for the government to be doing that."
The state government is expected to have tougher transition restrictions in place for February 5, or potentially earlier, than other jurisdictions did when they opened up to the rest of the country and greater spread of COVID-19.
New exposure sites
Twenty-six new exposure locations were added to Department of Health's list on Monday but in each instance the advice is for people who were at the different sites at the particular times to simply monitor for symptoms.
The new sites are in Beedelup, Forest Grove, Margaret River, Midland, Canning Vale, Mundaring, Cannington, Booragoon, Swan View and Northbridge.