From Sunday, the case numbers presented each morning will be for the 24-hour period from 7pm the previous night back to 7pm the night before that. The previous figures were for the period 7am on the day of the report back to 7am the previous day.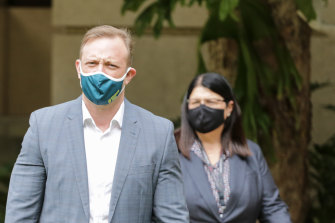 The new system allows time overnight for the latest COVID-19 figures to be assessed, Dr Gerrard explained.
He described Saturday's figures, which cover a shortened version of the old reporting period from 7am to 7pm on Friday, as a "one-off aberration".
There were 2266 new cases of COVID-19 reported in this shortened period.
Mr Miles said the equivalent 12-hour period 24 hours earlier had 1613 new cases, with 1178 new cases during the same 12-hour period 48 hours earlier.
"So even though the number of new cases we are reporting today is lower than what we are used to, it does represent a continuing upward trend," he said.
There are now 13,958 active cases of COVID-19 in Queensland, and most of them are the Omicron strain.
More than 86.6 per cent of Queenslanders are fully vaccinated, while 90.67 per cent have had a single dose.
Renewed concerns are emerging for Indigenous communities at Cherbourg – near Kingaroy – and Palm Island in north Queensland.
Thirty-five cases have been reported in Cherbourg during an outbreak in which one man was taken to Toowoomba Base Hospital to control the spread of the virus, "not because he is unwell", Dr Gerrard said.
"Twenty-five of these were in the community of Cherbourg itself."
Rapid antigen test kits are now being brought into the Cherbourg community, he said.
"There were 67 vaccinations administered yesterday."
Only 57 per cent of Cherbourg residents have been fully vaccinated, while 68 per cent of the Indigenous community has received a single dose.
Dr Gerrard said he had no figures for the COVID-19 outbreak on Palm Island to report.