If you test positive for COVID-19 you must immediately isolate for seven days, and tell those you live with to isolate too. Anyone who's been in a house with a COVID carrier for more than four hours is considered a close contact.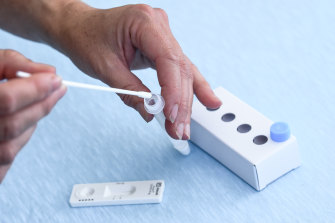 You also need to tell your employer, place of education, and social contacts so that they can get tested. Social contacts are people you don't live, work or go to school with who you've had 15 minutes of face-to-face contact with or spent at least two hours with indoors.
Report your result through whichever state or territory system you find yourself in at the time of testing positive.
Of course, the overriding advice to all of this is to isolate while you have COVID-like symptoms, so if you still feel unwell after the seven-day isolation period has expired it's advisable to stay behind closed doors.
What happens if I test negative on my RAT?
RATS are quick and highly accurate, so if you test negative and do not have COVID-like symptoms it means you are unlikely to have the virus and can carry on as normal.
The exception is if you are a household contact, then you must complete the seven-day isolation period regardless of your result.
If you are showing COVID-like symptoms in spite of a negative RAT result, it's advised you phone your general practitioner for advice.
If you're extremely unwell or develop breathing difficulties phone triple zero.
Do I need to have a PCR test?
You don't need a PCR test if you test positive on a RAT. But if you have symptoms and can't get hold of a RAT then you can get a PCR.
The other circumstance when it's recommended to get a PCR is if you are both non-symptomatic and have not been a close contact but you have still tested positive on a RAT, then you should get a PCR to confirm.
If you are waiting on a PCR result after testing positive on a RAT, then you are officially considered a positive case.
However, this is where it could get confusing, if you do take a PCR test to confirm a positive RAT result, and the PCR test is negative, that result overrides the positive RAT result. You still must isolate while waiting for the PCR test result, and the government says to expect delays of up to 5 days.
Loading
What if I can't get a RAT?
RATs are scarce right now, so if you have symptoms but can't get a RAT, then the government recommends getting a PCR. And if you can't get a PCR test, then you need to isolate until you can access either test. The same applies if you are a household contact.
What support is available if I test positive?
If you can't work because you're isolated waiting for PCR results, there is a $450 government support payment available. This payment is only available after a PCR test, RATs are not covered.
But if you do test positive with a RAT and need to isolate, you can apply for the Pandemic Leave Disaster Payment which provides $750 for 7 days of home isolation or quarantine. If you need to isolate for 10 days then you can apply for two $750 payments.
There are also relief packages that can be delivered by the Australian Red Cross to those in need. The packages contain basic food and personal care items that are designed to last a four-person household two weeks.
Fascinating answers to perplexing questions delivered to your inbox every week. Sign up to get our new Explainer newsletter here.