You'll find poke bowls, local craft wine + beer, yummy cocktails + mocktails
The innovative and playful Pear Tree Restaurant, a cozy bistro on Hermanus' village square, proves that healthy food can be indulgent.  There's a remarkable range of poke bowls, featuring smoked brisket and tacos with pulled seitan and falafels. Its cocktails and mocktails come with a twist; some have CBD oils, while others are based on fresh Kombucha. 

Eat fresh oysters in fresh sea air at Pear Tree, the eatery on Hermanus' sea. Image: Pear Tree Restaurant
That quirky-cool personality is partly why it's one of the seaside town's most popular eateries. The fact that it's menu is packed with flavourful and fresh meat, vegetarian and vegan options is another. Plus that Pear Tree has  an excellent view over Walker Bay.  
FIND OUT HOW IT GOT ITS QUIRKY NAME
There's a great backstory to this restaurant's name. When chef and restaurateur Petri Hendriksz found work in the UK, he also found colleagues who simply couldn't pronounce his name. 
They nicknamed him "Pear Tree", and when he came back to South Africa and found the perfect venue to build his dream restaurant in Hermanus, the moniker was the perfect fit.
All Petri's restaurants have an interesting story – he also owns the steampunk steakhouse Char'd Grill & Wine Bar, another Hermanus favourite that specialises in meat.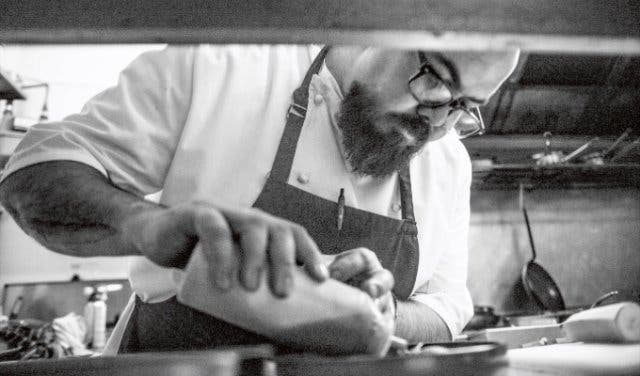 Petri Hendriksz founded Pear Tree after searching for the perfect venue for his dream restaurant. Image: Pear Tree Restaurant
DINE, SIP WINE WHILE WHALE WATCHING
Petri founded Pear Tree in 2015, and in 2019 he revamped the bistro's menu. He kept the most popular seafood and meat dishes, and expanded its repertoire to include a vegan and vegetarian section with fresh, innovative flavours and combinations.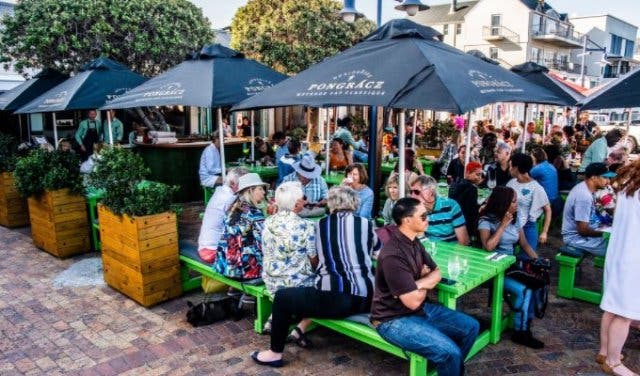 You can sit inside or out, where there are views of the sea and the vibe is great. Image: Pear Tree Restaurant
YOU MUST TASTE THE VEGAN CHICKEN BURGER
The seitan "chicken" burger – looks like chicken, tastes like chicken but is completely vegan – has to be tasted to be believed. Seitan, made of wheat, is becoming an increasingly popular vegan meat alternative.


You'll also find oysters on the menu, as well as fresh seafood, which are lovely to enjoy outside, where you're almost certain to see whales in the bay in season, something Hermanus is world famous for. It's known as South Africa's whale-watching capital. Many of the ingredients are  produced in the area, giving every dish a high-quality, fresh and local flavour.
EAT FOOD THAT YOUR BODY WILL LOVE
There are no starters and mains; most items can be ordered as either a small plate or main portion. Every dish and drink is presented beautifully, with care and attention to detail, so the delight begins the moment the dish arrives in front of you.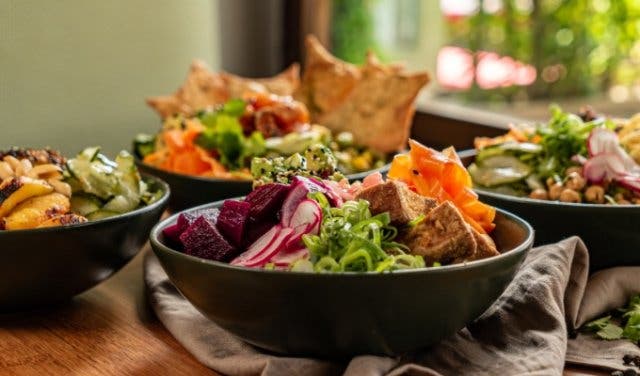 The poke bowl options are varied, and fresh and flavourful. Image: Pear Tree Restaurant
TASTE LOCAL GIN AND CRAFT BEER
The bar menu is well curated, with a selective gin, beer and wine list featuring hidden gems, such as Spookfontein wine, which is not commonly available. Three beers are available on tap, including Old Harbour Lager, brewed down the road in Hermanus.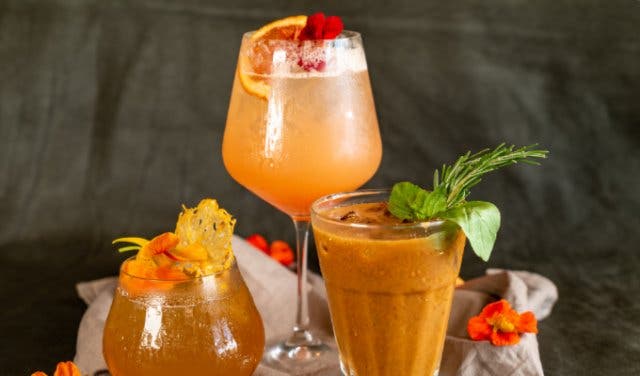 The wine and cocktail menu focus on using ingredients from local craft producers. Image: Pear Tree Restaurant
FEEL SO AT HOME INDOORS OR OUTDOORS
Most visitors to Pear Tree, located on the main sea-front strip in Hermanus, will want to sit outside for the ocean views. But you would not be remiss for choosing to stay indoors. It's cozy and relaxed. And true to its nature, very playful: Don't be alarmed when you see big bears at the next table – they are placed there for your own good.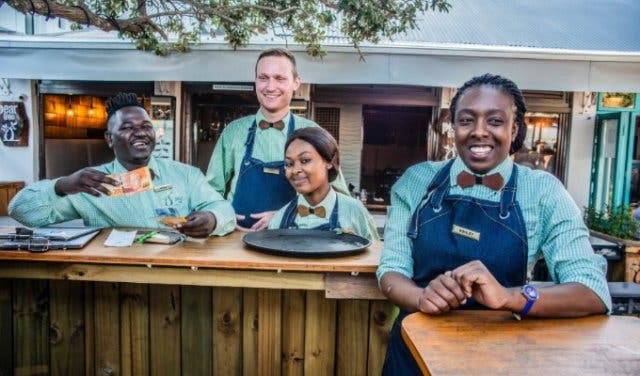 There's a wonderful, connected, friendly vibe at this restaurant. Image: Pear Tree Restaurant
OPENING HOURS + CONTACT DETAILS
Pear Tree's open: Monday to Sunday, 10am – 9pm
Email: info@pear-tree.co.za 
Call: 028 313 1224
Find them: No. 2 Godfrey Cottages, Village Square, 81 Marine Dr, Hermanus, 7200      
Price range: R38 – R275
Follow Pear Tree on Instagram @peartreehermanus
—
HERE'S WHAT ELSE TO DO
Dying for a burger or steak? Char'd Grill is related to Pear Tree. Here's where to find it.
Go on the first Friday of the month, and you must take advantage of the open galleries.
If you're heading for the Mother City, here are more restaurants with a sea view.
Here's another spot in Hermanus right on the sea; it'll make you feel like you're on the Riviera.
—
Loved discovering this?  Make sure you get our popular weekly newsletter.Follow and like us on Twitter ❤ Facebook ❤ LinkedIn ❤ Instagram ❤ Pinterest for updates.