Brisbane River peaked at 3.35 metres during Tuesday's morning high tide, pushing floodwater back into homes, while police divers found the body of a 76-year-old man – who went missing in floodwater near Glen Esk on Sunday – in his submerged car at Paddy Gully Creek at Moombra, bringing the Queensland floods death toll to nine.
Authorities continued to monitor a crane stuck in the middle of Brisbane River, while a CityCat sunk at Bulimba, one of several watercraft destroyed by the floods.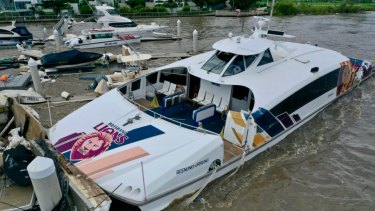 "We are expecting to see a return of some locally heavy falls," meteorologist Jonathon How said.
"In terms of rainfall amounts, it is difficult to say at this stage because it depends where that rain band does form as well as those thunderstorms.
"We could see localised heavy falls of 50 to 100 millimetres each day as well as damaging winds, and small to large hail.
"The danger isn't over yet, with the potential for severe weather later this week."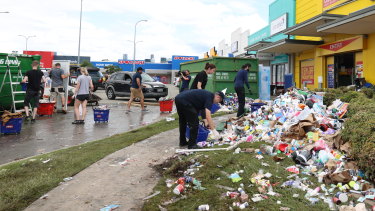 Brisbane received about 80 per cent of its annual rainfall in the three-day weather event that flooded the south-east, Premier Annastacia Palaszczuk said.
The damage to Brisbane homes, which spans 30 suburbs lashed by a metre of rain, is estimated to be in the billions, University of Queensland's John Quiggin said.
On Tuesday, the Insurance Council of Australia said 31,000 claims related to the flood emergency in south-east Queensland and the NSW coast had been made, up from 15,000 on Monday.
Mr Quiggin stressed that the impact of climate change, represented by the flooding, on how authorities managed future natural disasters would be a key factor in the total figure.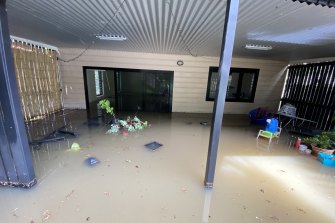 "We had what was supposedly a 100-year event in 2011, another one 10 years later, not quite the same. Ballina has had supposedly a one in 500 years [event], so it's pretty clear that historical experiences aren't relevant any longer," he said.
"It's pretty clear the costs of climate change are going to be massive."
Schools remained closed across the south-east, as roads were damaged and inaccessible, but Education Minister Grace Grace said inspections over the past two days showed most schools would be able to reopen on Wednesday.
The Premier said about 83 schools in Queensland would remain closed.
Meanwhile, the Independent Education Union launched a dispute through the Fair Work Commission over Brisbane Catholic Education's decision to reopen schools, potentially putting staff at risk.
Later on Tuesday, it was confirmed BCE would provide revised communications to principals and employees to clarify arrangements for staff affected by the flood emergency.
A "mud army" was being reactivated, while evacuations were still taking place across the south-east on Tuesday, including 90 aged-care residents from a nursing home in Yeronga, in Brisbane's south.