Unpretentious toasties, from cheese-and-tomato to French Dip with broth 
Last updated: Monday, 28 February 2022
If you love unpretentious toasties, diner-style eating or even the colour red or pink, boy have we found a great spot for you. Arthur's Mini Super in Sea Point is as fun and loveable as a fluffy doggo (and you'll find them at Arthur's too – it's dog friendly). Step past the "Whuddup Fam" sign on the floor and get ready for laughs and happy tummies.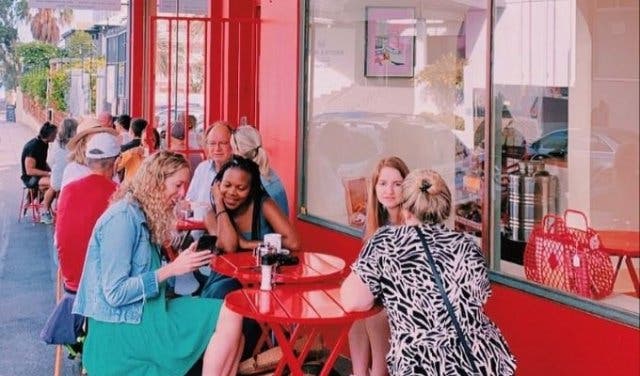 Arthur's Mini has an indoor and outdoor seating area. Image: Christine McGivern (@c_mcgivern)
YOU'LL LOVE THE DINER VIBE
Arthur's Mini has loads of quirky details that you'll adore. It's super colourful inside with bold pink walls and red furnishings. It's like a combination of an 80's diner and a Barbie doll house. 
The outside seating is quaint, with red tables and stools that run along the length of the restaurant. Inside you'll find diner-style seating and little arches that lead you to the next room. It's such a cute spot, you just have to post a photo on your Instagram.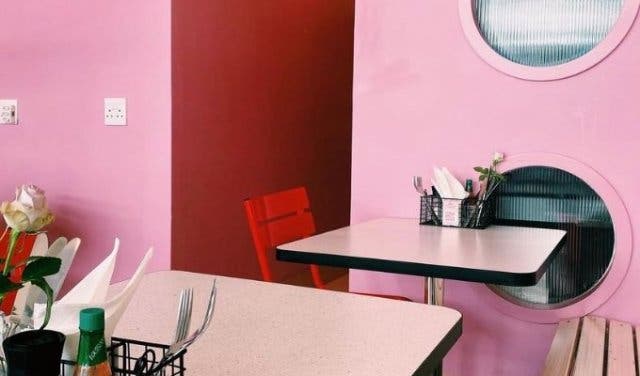 The floors are tiled in red, green and blue, which works beautifully with the pink walls Image: Maxine Halperin (@whatmaxeats)
TRY OUT ONE OF THE SANDWICHES
Arthur's Mini has loads of great options for both breakfast and lunch. Arthur's takes you back to recess lunches and sports game snacks with their toasties. 
It's unpretentious, wholesome and just plain good! The sandwiches come in all sizes, made up with different breads, from the classic cheese-and-tomato to the French Dip (roast beef on a baguette with a beefy broth for dipping).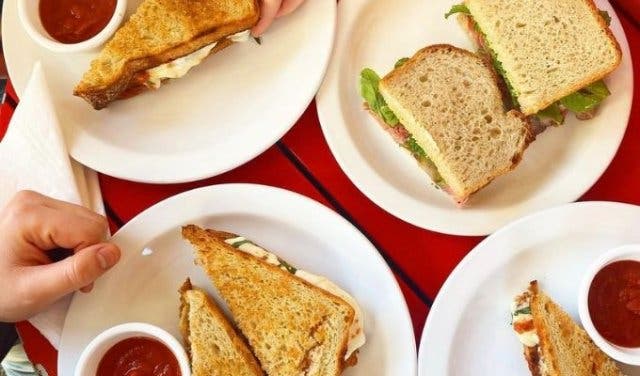 You have to order the food at the counter and the waiters will bring it to you. Image: Arthur's Mini Super
Also on the menu are bagels, supplied by New York Bagels, as well as all-day breakfast options like the Wimpy Breakfast. Enjoy your meal with a cup of coffee or freshly squeezed juice.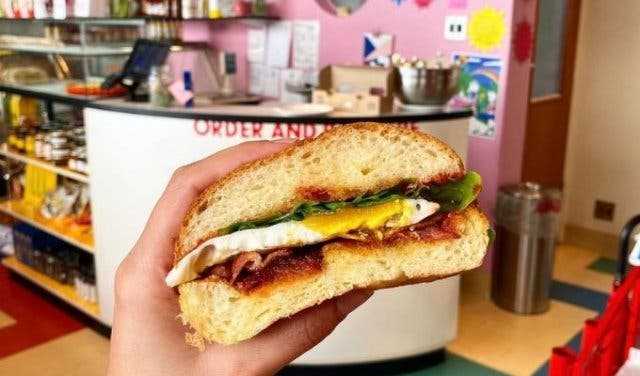 Everything on the menu is under R150. Image: Arthur's Mini Super
POP BY THE GROCER
Arthur's Mini has all the little essentials you need for your pantry (or even just snacks for a lazy weekend), from drinks and chips to preserves and dairy products from brands like Egg & Shoulders, Bergsoom Pure Foods and Okja. There are even some fresh fruits and baked goods.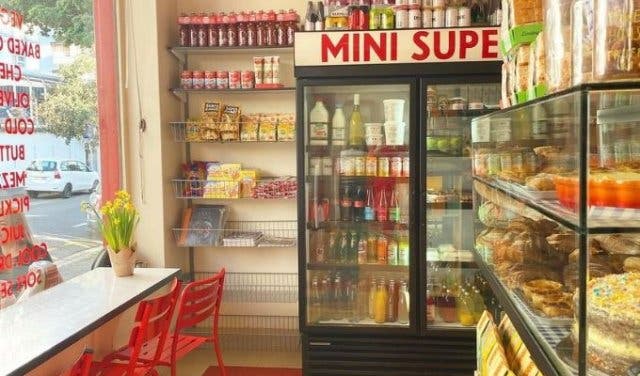 The products sold at the grocer are made by local suppliers. Image: Arthur's Mini Super
WHEN + WHERE TO GO  
Arthur's Mini Super is open: Mon, 7am – 4pm; Tue – Fri; 7.30am – 4pm; Sat + Sun, 8am – 2pm
Price of toasties: R50-R150
Find it: 15 Arthurs Road | Sea Point | Cape Town
Contact: 087 702 7470, website, Instagram: @arthursminisuper 
–
Lara van Zyl
—
DISCOVER MORE TO DO IN THE ATLANTIC SEABOARD
Treat yourself to some amazing French pastries at Paris Cape Town.
Ride in style on the promenade with Up Cycles in Sea Point.
Enjoy an urban oasis with live music + food at Mojo Market.
Discover these 7+ things to do this weekend.
—
Loved discovering this? Make sure you get our popular weekly newsletter. Follow and like us on Twitter ❤ Facebook ❤ LinkedIn ❤ Instagram ❤ Pinterest for updates.