The Andrews government will dump its public housing reforms, announced less than two weeks ago, which would have taxed property developers $800 million to pay for thousands of affordable homes for vulnerable Victorians.
Two sources, speaking anonymously because an announcement had not yet been made, said Treasurer Tim Pallas would scrap the housing tax at a press conference just before 11am.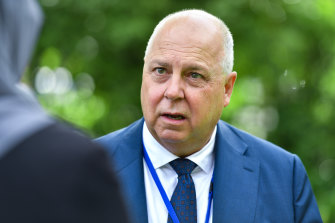 The major tax and housing policy reform would have provided a long-term funding solution for Victoria's nation-leading public housing shortage.
In a meeting with interest groups on Monday, Treasurer Tim Pallas, said the government was prepared to bin its entire package if property industry bodies continue to run a scare campaign on housing affordability and oppose the plan to tax developers $800 million a year to build social housing.
On February 18, the government announced a 1.75 per cent tax on builds with more than three dwellings – affecting almost every major residential project – but the proposal was suspended last week when Premier Daniel Andrews accused the Property Council of not "honouring" an agreement to support the tax.
The Age reported on Saturday that the Andrews government faced resistance to the proposal from a key Labor-affiliated union and some government MPs who were worried about a rise in house prices if developers increased prices to offset the financial hit of the tax.
The Property Council wants a tax rate closer to 1 per cent, while other major groups including the Housing Industry Association and Urban Development Industry of Australia do not support the tax at all. The membership of the HIA and UDIA are most-affected by the levy because all of their members are residential builders to whom the tax applies.
The government argues the planning changes will deliver billions in extra profits and that it is fair and reasonable for developers to help pay for social housing.
More to come